Artist Achim Lengerer works with questions of language that he either thematizes in his performances or spatializes within his installations. In the last years Lengerer founded different collaborative projects such as freitagsküche in Frankfurt/Berlin and voiceoverhead, a collaboration with artist colleague Dani Gal.

Since 2009 Lengerer runs the travelling showroom and instant publishing house Scriptings. Scriptings functions as a discursive platform parallel
and additional to Lengerer's projects. Artists, writers, graphic-designers, performers as well as publishers are invited – all of which are working
with the formats of "script" and "text" within their processes of production. Lengerer is currently researching on the 'rehearsal' as an artistic method as well as socio-political format at Goldsmiths, University of London, UK.


You are cordially invited to the presentation and reading of the new Scriptings issue #33:

"Seit ich die Sprache lerne, die ich spreche" by Christine Lemke

TIME Doors 8.00 pm / Reading 8.30 pm
DATE Thursday 16th of January 2014
PLACE Scriptings / Kamerunerstr.47 / 13351 Berlin

The reading will be in German!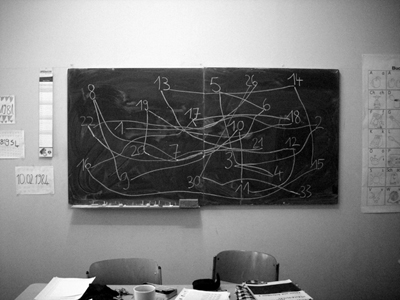 In her literary essay "Seit ich die Sprache lerne, die ich spreche" Christine Lemke takes her job as a German teacher in so called "Integrationskurse/integration-courses" for immigrants as a starting point to reflect on the ideological implications and pedagogic procedures of learning a language within an overdetermined state controlled setting.

Christine Lemke is an artist and writer living in Berlin. In her videos, publications and readings she works with various types of text/image constellations, using the occurring media gap to explore cultural and historical stereotypes as well as inherent personal and political narratives. Latest exhibitions of Lemke include: Mathew Gallery, Berlin; Heidelberger Kunstverein and DIVUS, Prague. Please see for further information: www.christinelemke.de